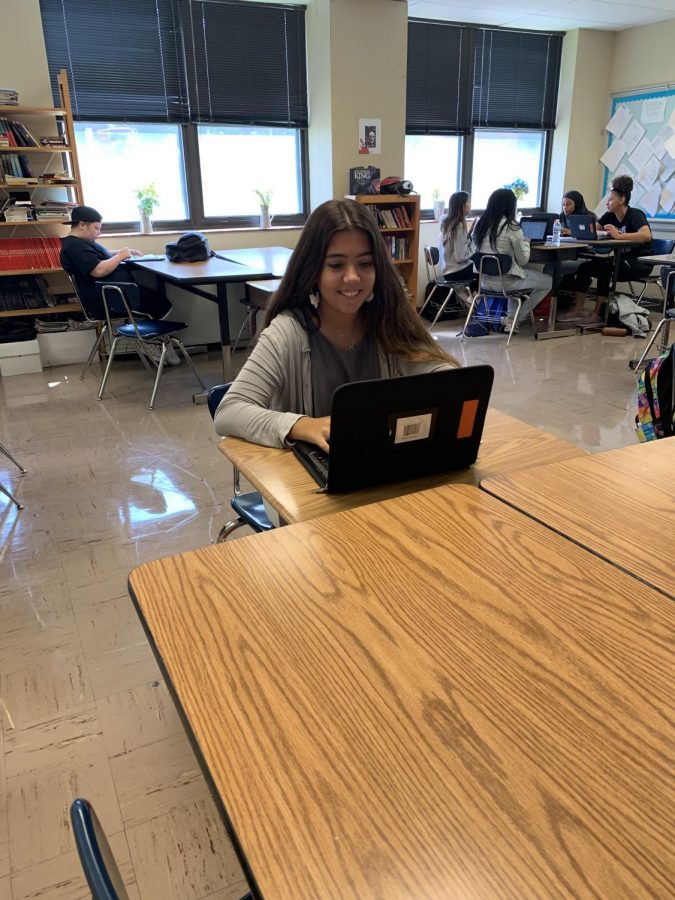 Chloe Pagan
This year Ritenour is welcoming two foreign exchange students, while another student had the opportunity to study abroad during the summer.
The exchange students that have come to Ritenour for the 2019-2020 school year are seniors Luca Beccacece and Carlota Gili.
Beccacece comes to Ritenour from Italy while Gili is from Spain. Both students are getting used to various things throughout the school and their new environment.
"I am getting used to the language, the classes, and the schedule," Gili said.
Beccacece also noticed some differences in the type of equipment that is available to students here, which he was not used to at home.
"I am getting used to the people, how we have enough time to get to our classes, and also how Ritenour has a variety of instruments and computers," Beccacece said.
Both students have things that they miss from back home, especially their family, friends, and even food.  Learning about the exchange program was the first step that they had to take, although Gili had some help from a family member.
"I learned about the exchange program because my sister did the same program three years ago," Gili said.
Beccacece had been considering studying abroad for the last six years.
"My parents have always talked about me about doing a program like this ever since I was around 12 years old, so I started looking into it and now I am here," Beccacece said.
Senior Catalina Mundin went in the opposite direction, as she got the opportunity to study abroad in Argentina for eight weeks during the summer.
"My mom actually met one of the volunteers in St. Louis through an art festival, and from there they began talking about me; about how I am an A+ student on the Honor Roll and a good student overall. They looked into my credentials and saw that I qualified for the program," Mundin said.
While in Argentina, Mundin got a new sense of how other places are around the world.
"The environment was really different, I liked it to where it really humbled me. It showed me that not everything is ten-story buildings, tiled, and finished floors," Mundin said. "I was looking forward to immersing myself into a whole different culture, and I was looking forward to the food.  I missed St. Louis food so much. I just missed America in general because everything there was just potatoes and meat."
While Mundin can look back on the experience now and reflect, Beccacece and Gili are still making those comparisons and learning to navigate their new environment. Although they might not be able to go home soon, they are looking forward to many things during and after the study abroad program. Beccacece is looking forward to making new friends and learning more about the musical culture, and Gili is already thinking about the future.
"Once I am home I am looking forward to keeping in touch with the friends I will be making here," Gili said.