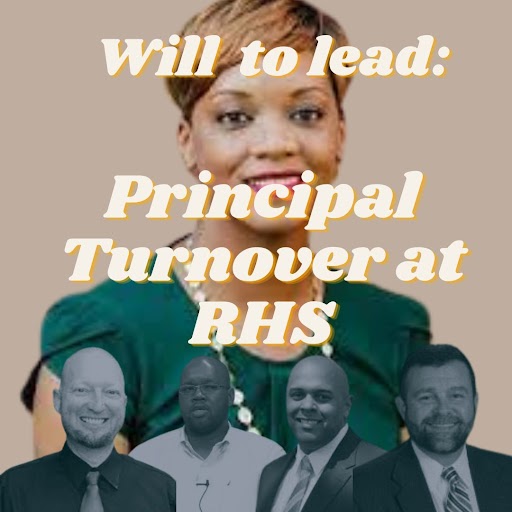 Principal turnover at RHS
Dr. Jana Haywood was hired last year as the Ritenour High School principal, but if the history of the principal position at Ritenour over the last ten years repeats itself, she will be gone by the class of 2025.
In the last 10 years, Ritenour has gone through five principals, each lasting an average of three years at the helm.
While this might seem alarming, this is not only a Ritenour problem. Principal turnover nationwide has increased, and the leaders of the district have a plan to try to break the cycle of short tenures of its school leaders.
Dr. Haywood was thrilled to be hired last year and has embraced her role as a leader of a building in transition after dealing with the effects that COVID had on education over the last two years.
"I was excited to accept the role as principal here at Ritenour High School. This is my 11th year as a building leader, I've served at all levels pre-K through 12. And so I felt very confident in terms of my experience and knowledge to be able to really tackle leading this school at a time such as this," Haywood said.
While she has no intentions of leaving, the national trend shows that it would not be a surprise.
A national study from the National Association of Secondary School Principals states that 35% of principals are at their school for less than two years, and only 11% of principals are at their school for 10 or more years. The numbers are worse for any principal who is serving in a low-income, high-poverty school district. In combination with this, more educators overall are fleeing the profession after the pandemic, leading to a nationwide teaching shortage and multiple new teachers in the building.
These statistics can have a major effect on the students and staff members who remain at the school.
"Well, anytime you have a new boss, you have to kind of get used to some of the new things that they emphasize. But at the end of the day, most of us are here to help the kids and teach the content," veteran social studies teacher Mike Murray said. "It can be challenging at times, with, as I mentioned previously, maybe a different vision for things, but at the end of the day, you try to get behind them and do what's good for the students."
A study by the Brookings Institute found that principal turnover can be associated with lower test scores, school proficiency rates, and teacher retention.
"I think most of our staff assumes that when principals are hired, and they're here, they're here to help. They're here to facilitate, they're here. Obviously, they have a tough job, they have to balance parents, teachers admin at the central office. So it's not an easy role," Murray said. "I think part of that challenge and what tends to make the tenure a little shorter for people is it can be very time consuming, very challenging."
For senior Kyle Williams, Haywood is the second principal he has had at Ritenour during his four years. Dr. Jeff Marker led the school during Williams' freshman and sophomore years.
"Dr. Marker was very easy going and it seems like he just went with the flow of things," Williams said. "I was somewhat surprised when he announced he was leaving, but I didn't necessarily have a reaction to it. I wasn't really phased by his announcement to him leaving."
While Williams was not sure what the change in principals would mean going into his junior year, he noticed some differences in the way things are going at school with Dr. Haywood.
"(Dr. Haywood) and I have built a relationship where she can put me in my place in a heartbeat, but I know she always wants the best for me," Williams said. "Dr. Haywood has been very proactive to situations and always tries to find the best solutions for things. She also always seeks the opinions of others (students and adults) to learn the different perspectives and to help her make executive decisions."
Superintendent Chris Kilbride believes that constant change can have a negative effect on the students, saying that it could lead to things like staff and students wondering whether they should buy into a new leader if they believe they will be gone quickly.
"I think fidelity, getting people on board to the mission of the school is impacted when you've got constant turnover. If a school is going to improve performance for every student, it's going to be the principal that's going to work with teachers, work with assistant principals, and work with the community to make that happen," Dr. Kilbride said. " When there is a period of turnover in the principalship. That's not what we're after. We are looking for stability in the position."
Dr. Kilbride believes that the district can achieve stability in the position with Dr. Haywood, and it has put in some extra structures to make sure that continuity remains. Ritenour created the position of Director of Secondary Education last year and hired Dr. Bruce Green.
"We know that the role of the principalship at Ritenour High School is a very challenging role, and we want to make sure that Dr. Haywood is being supported on a daily basis to a greater extent than what it was in the past," Dr. Kilbride said. "This new structure has been put in place to support not only the high school, but also the two middle schools."
Green, who came from outside the district was seen as a change maker to assist the new principal, however, he sees himself as part of the team dedicated to changing the trend.
"I am one of the main ingredients in the larger scheme of things for educational leadership at the high school," Green said. "One of the things that I really live by is this whole notion of leadership. I believe that leadership is the ability to work with and through people to achieve the goals of the organization. I also believe that everything rises and falls on leadership, so one of my roles is to actively support as well as engage the building leaders so that they're providing a space for adults and students that is conducive to learning."
Dr. Haywood was not sure how everything was going to work together with the brand new position, but says that it has helped her transition to lead the high school.
"(Dr. Green's) presence in the opening semester of my tenure really made a tremendous difference. We had so many unknown variables and factors that were surfacing on a daily basis having another leader with his experience and knowledge and just care for children, was really beneficial for everyone involved," Dr. Haywood said. "In looking at how the roles will intertwine or interact in the future I think is a big question that still is to be answered. But I'm excited to have any level of support for the high school."