Athletes and mental health: The battle inside the competition
In addition to the physical requirements of sports, mental requirements often push athletes to the edge
Imagine an athlete has been playing a sport since they were little. They wanted to play this sport in college, and have thought about playing this sport for the rest of their life, but as they continue to play the sport for so long they realize that it is not what they remember and they give up their childhood dreams. 
There are many things that can push an athlete to not love the sport anymore.  There could be external issues, such as a disagreement with a coach, a lack of connection with teammates, or discouragement from a slump. However, the biggest problem seems to be internal, and that is an athlete's mental health. 
During the 2021 Tokyo Olympics, 4-time gold medalist Simone Biles dropped out of the Olympics because she believed her mental health was more important than competing. Biles was experiencing a common experience among gymnasts known as the "twisties." It can be triggered by stress and makes an athlete feel lost in the air while doing the tricks they have done a hundred times. 
Biles stated that her "mind and body were not in sync" and that she decided in order to avoid hurting herself and compromising Team USA's success that she needed to walk away. 
"That would be selfish of me to put the team's medal contention in jeopardy, put myself in jeopardy. I had to be like, 'Simone, it's okay. It's not the end of the world, it's just sports. If you walk away from this and you still are walking, that's a win in your book,'" Biles said in an interview at the Simmons Leadership Conference in April, 2021. 
She spoke about why she made the decision not to compete and how she hoped it would create opportunities for bigger conversations. 
"We're not just athletes or entertainment, we're human, too, and we have emotions and feelings and things that we're working through behind the scenes that we don't tell you guys about. Put your mental health first, it doesn't matter if you're on the biggest stage. That's more important than any medal you could win," Biles said.  
Pressure to be the best can wear down athletes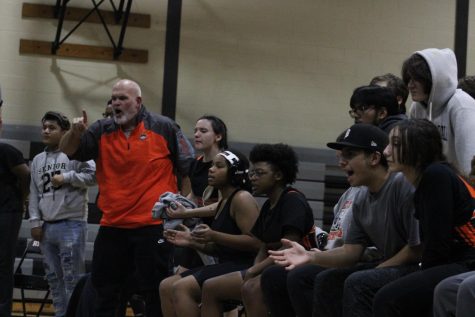 People may think that sports can only create physical damage, but they can also form a lot of mental damage to athletes. Especially for high school athletes, it can be a struggle to keep up with their sport and school at the same time. Ritenour cheerleader Jayden Bock spoke about how she handles being a Ritenour cheerleader and a straight-A student. 
 "Honestly, now that it is my senior year I have gotten better at it, but for all four years, absolutely not. I learned that I needed to focus on the student portion first because if I am not good in school there is no way that I can do the sport that I am in," Bock said. "I try and get work done before practice because we have about an hour before practice starts. So, I do work before, and then I try to minimize the social hour in the classroom and actually get stuff done." 
All coaches try to tell their athletes that they should have a positive mindset. The idea is that all athletes should go into every game thinking that they are going to do great and will try their best. That is what should happen, but athletes, especially student-athletes, can go into a game with a negative mindset as they carry all of their other anxieties into an event.  It takes a lot of brain power to change a mindset to a completely new mindset. 
An athlete can get burnt out so easily. The cause of this could be many things like too much pressure, stress, school, loads of work, and poor self-care. 
"Oh absolutely, I have definitely wanted to quit because of the stress. Especially right now because we are going to state and it's super hard. We still have tests and we still have school this week," Bock said.
Even for professional athletes, who do not have to deal with stressors like school, the desire to win at all costs can be unhealthy. On January 2 it was a hard night for everyone that loves the game of football. The Buffalo Bills were playing the Cincinnati Bengals on Monday Night Football when Bills safety Damar Hamlin suffered cardiac arrest after getting hit by the Bengals receiver Tee Higgins. He collapsed on the football field that night and had to be taken to the University of Cincinnati Medical Center. 
The game didn't continue after that. The game never continued. The nation followed the medical reports from Hamlin's doctors and heard the news on January 5 that his breathing tubes were removed overnight and he woke up. 
The first question he asked when he woke up was "Did we win?" 
Out of all the things he could have asked first, he asked about the game. He is a professional athlete who has spent his entire adult life focused on winning and losing a football game as his top priority, even more than his own personal safety. 
"The answer is yes, Damar, you won. You've won the game of life," Dr. Timothy Pritts told reporters in a conference call from the University of Cincinnati Medical Center.
What are some of the best ways to help athletes cope?
According to Athletes for Hope, "33% of all college students experience significant symptoms of depression, anxiety or other mental health conditions, and 30% seek help. Among college athletes with mental health conditions, only 10% seek help." 
Jennifer Siess is a mental health coach. She helps competitive female athletes on the mental side of peak performance, and she helps athletes cope with many different things. 
Siess is beginning to work with some Ritenour students on their club teams, and she is an advocate of mental practice for all athletes to make sure their mental health does not suffer with more athletic pressure. Athletes, like Ritenour Middle School student Giana Fouche, are looking forward to working with Siess. 
"I'm looking forward to learning ways to improve my mental focus and how to get out of mental blocks during games," Fouche said.  
Siess is focused on helping athletes incorporate mental coping strategies into their athletic events. 
"Mental skills are like any physical skill you want to master. There is no magic switch. It takes repetition and time," Siess said. "So, if an athlete has negative self-talk, we work on balancing that with positive self-talk. If the athlete is generalizing, we work on being specific with our critique."
Siess also said that athletes struggle with the idea of failure, and have a hard time accepting negative outcomes. 
"Mentally healthy athletes accept the fact that failure is part of the process. Their relationship with failure is healthier. In the end, the most successful people are not the ones who never make mistakes, it's those who recover from them, hopefully quickly, and use them for future better performance," Siess said. 
Stress in sports can lead to diminished mental health in athletes. While stress is naturally present as a part of games, there are many examples that show a need to find a better way to handle it. Athletes are losing themselves because of the game. 
"When faced with overwhelm, we work on ways to break down those pressure moments into the "next right step,'" Siess said. "I also work with a lot of pleasers, so we work on understanding that you truly cannot please everyone at any given moment and, in the end, it's about trusting yourself in the moment to make the best decision you can."
Coaches looking for help can find sports psychologists, like Siess, to help their teams through mental health struggles on the field. 
"Besides talking through these issues, we create ways for athletes to practice these moments at practice so they are better prepared for them in games. We also work on things like having a proper amount of accountability, trusting in our ability to improve, and believing in ourselves when faced with fear or the unknown," Siess said.