Terrence Clark creates a path for his future
Senior Terrence Clark has worked during high school with the goal of becoming a mortician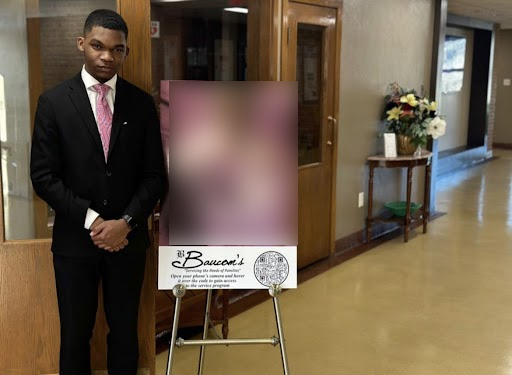 Senior Terrence Clark III has put himself on a career trajectory that not many high school students seek out, as he is currently employed as a Funeral Attendant at Baucom's Life Celebration Center.
Clark became employed at Baucom's Life Celebration Center through an interaction he had with a funeral director at his father's funeral service.
"The funeral director referred me to the owner of the funeral home and that's how I got a job," Clark said.
One of the tasks Clark performs in his line of work includes attending funeral services and assisting and meeting the needs of mourning families. Clark goes into detail about some of the other tasks he may perform.
"I also assist in removing deceased loved ones from homes, hospitals, nursing homes, and the medical examiner's offices," Clark said.
Clark showed interest in being a funeral director from a young age.
"I just thought it was an interesting job after attending several funeral services," Clark said.
He recalls acting out funeral services with toys in his grandmother's house. However, his interest in mortuary work isn't the only thing that led him to this career path.
"The funeral industry is pretty rough to get into. It really matters who you have connections to get a job at the firm," Clark said
Clark didn't learn about mortuary work through anyone specific, but he does admire some men in his line of work.
"I have 2 people I look up to in this business. The first person who inspires me is Mr. Kelvin O. Baucom from St. Louis," says Clark.
Clark is currently employed at Baucom's firm and admires his exemplifications of elegance and professionalism.
"Mr. Baucom is very understanding and compassionate with families in their time of bereavement and will do what it takes to satisfy them," Clark said.
The other person Clark looks up to is Mr. Damien J. Davis from the state of Florida. He learned about Davis from social media sites. Clark praises Damien for his "attention to detail and class with setting up funeral services."
Clark enjoys this profession and says that his favorite part so far has been "the funeral procession of cars going to the cemetery."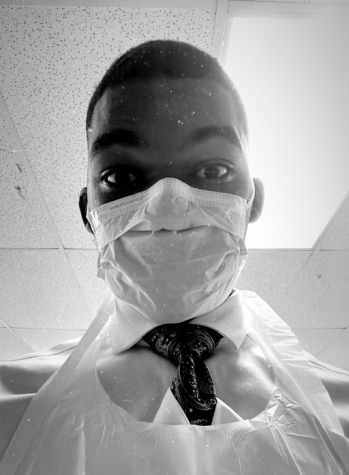 One of Clark's teachers at Ritenour, Lisa Hampton, is very proud of the path that he has chosen and knows that he will do well.
"Terrence is very dignified and has great people skills. He is a great speaker with a soothing cadence to his voice which is needed when dealing with families and the loss of their loved ones. Terrence takes pride in his job and does not find it creepy even though most of the students think it is a creepy job dealing with dead people," Hampton said.
Clark chose this occupation because of the opportunity to serve families during their time of bereavement. He is tasked with helping attendees celebrate their loved one's in the best way possible.
Throughout the duration of his employment, Clark reports the weirdest thing that happened was when he was removing a person from a nursing home.
"I was removing a loved one from a nursing home, and the loved one's arm slid slightly out of position and I thought they were alive," Clark said.
Although it may not be the typical career path of every high school student, Clark has found his passion and plans to continue his journey in the mortuary field.
Clark has had a lifelong dream of being a Funeral Director and plans on attending St Louis Community College at the start of next term. He plans to major in Funeral Service Education, also known as, mortuary science. After completing those college courses, Clark will take the Missouri State Test to become a licensed funeral director in the state of Missouri.
"We all have a calling and being a funeral director is one of those callings just like nursing and teaching. I have seen Terrence go from answering the phones at the funeral parlor to driving and picking up the cadavers from hospitals. He has a great work ethic and has the skills to handle one of life's hardest jobs as he is working with people during a traumatic event in the loss of loved ones," Hampton said.