A model mentor for overcoming odds
Basketball coach George Lee was named conference coach of the year in only his second season as the head coach, and just three years after a near fatal car crash
When the Ritenour boys basketball team went undefeated in conference to win the conference championship and he was named the conference coach of the year, it marked another high point of Coach Lee's roller coaster of life.
As a graduate of the class of 1991, George Lee IV attended Ritenour as a student. Lee states that his time as a student was a great experience.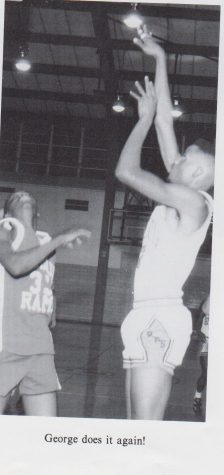 "My friends and I played multiple sports and had a tremendous amount of school pride," Lee said. "We did experience moments of racial tension flaring at the time, but me and my friends stayed one big happy family.
Ritenour's Athletic Director Drew Lohnes was the one who promoted Lee to the head coaching position before the 2021-2022 school year, and he went to school with Lee also. Lee and Lohnes both attended Hoech Middle and RHS, although he graduated two years after Lee did.
"We both knew a lot of the same people and had some classes together," Lohnes said.
Lee began his coaching career long before coaching basketball at Ritenour, coaching youth football and AAU (Amateur Athletic Union) basketball. He became an assistant coach in 2012 after interviewing for the junior varsity position. He also filled out an application for the head coach position at the time, already thinking about his future.
"I never received a call back for that job," Lee said.
Lee coached with Dave Watkins for three years and then continued to work with Mike Nelke for six more years before taking over as head coach in 2021.
While Lee's path to success seems like a steady rise, it has had bumps along the way. On January 25, 2020, Lee, his wife, and his cousin were hit by a drunk driver as he was preparing to exit the interstate. Lee says that the truck flipped over several times before landing on its wheels. While his wife and cousin were able to walk away with minor injuries, Lee was ejected from the vehicle and located underneath the car with a shattered pelvis, broken nose, broken fingers, and a lot of road rash. The injuries resulted in skin graft surgery in multiple places as well as surgery to repair the shattered pelvis.
"I spent months recovering in a wheelchair and since COVID restrictions were beginning to be put in place, I had to do rehab on my own," Lee said
When the news got out that Lee had been in a major car accident, it was devastating for everyone at Ritenour.
"It was very shocking. I didn't have a lot of details so I was very worried," Nelke said. "Our minds were on him and I remember visiting him at the hospital and thinking about what he went through."
The coach and players were all very happy and excited when he came back, but since Lee was recovering from the crash, he says he felt challenged.
"I had never had a major surgery, nor had I ever been in a scenario where I could not walk on my own," Lee said.
Since COVID started and students were not in school, he was able to do Zoom workouts with the basketball team five days a week so that they could be on the same page while they were apart. Lee states that navigating around in a wheelchair was his biggest struggle although he was able to attend a few games and practices before the end of the season. Lee completed his recovery in seven months. His doctors said it was a miracle that he recovered from his injuries in so little time.
"The doctor said that most other people with similar injuries never recover as well as I did," Lee said.
Lee officially came back in the 2021-2022 school year when the pandemic restrictions were lifted. He took the position of head coach in 2021 and led the boys to victory in the conference in just his second season.
"We had not won a conference championship in over 30 years," Lee said.
The last time Ritenour won the conference championship in boys basketball was in 1991, Lee's senior year.
Lee is very excited about winning conference, although that is not his ultimate goal.
"It is still rewarding knowing that I have been part of the last two conference championship teams as a player first and now a coach," Lee said.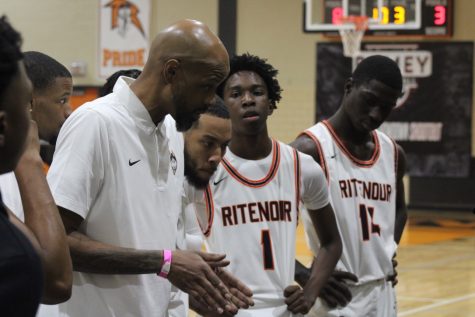 His future plans are to win state championships and build a program where students go to college to play basketball all while creating connections with elementary, middle, and high school students.
"I want to be building college-ready athletes on and off the court," Lee said.