Makerspace bus drives in to METC 2016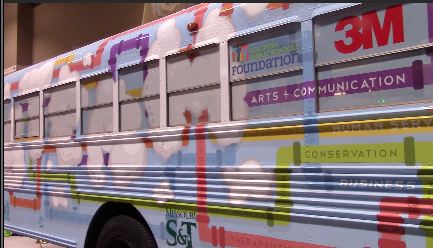 Hang on for a minute...we're trying to find some more stories you might like.
Makerspaces are interactive, community-oriented spaces where you can create and learn skills using a variety of different tools and materials. Many schools are adopting this as a way to get the students more involved.
Craig Adams, the practical arts coordinator for the Columbia, MO public school system has taken the makerspace to another level, they created a makerspace on a bus in hope to change and make an impact on students.
"When I see the kids turn the corner and walk on the bus, they say oh my god, this is so cool, that is the impact that I'm seeing. Now let's go into the classroom and play school. You want to get the kid in the right pipe and let them go where they want to go." Adams said.
This is the impact that Adams is making with the Science, Technology, Engineering, Arts, and Math (STEAM) Bus.
There is a website that schools can go to, to sign up for the bus to move to their schools. The bus is mainly for Kindergarten to 5th grade, but will eventually be moved to Kindergarten to 12th grade.
The bus is equipped with 3Dimenstional pens, a 3D printer, drawing stations, with the carpeting, and the walls and the ceiling gives the students a dry erase area to write down their thoughts. It will soon have solar panels on the roof to power the internals as well as showing the students an inverter, and how power is transfer from A/C power to D/C power.
The funding has come from many donors, they are post-secondary institutions and local organizations, and none of the funding for the bus has come from the school itself.
"We have only been doing this for about 2-3 months. But we have had a lot of positive response from kids, parents, donors and everyone else" Adams said.
For more information on the STEAM bus, contact Craig Adams at [email protected]