Ritenour students express their opinion on 2017-2018 hybrid schedule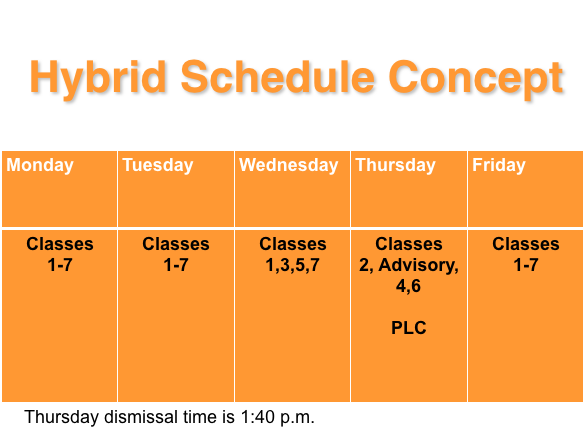 Hang on for a minute...we're trying to find some more stories you might like.
For the upcoming 2017-2018 school year, Ritenour will be altering their scheduling system to what is called a hybrid schedule.
The new schedule has three days when students attend all seven classes, one day when students only attend odd numbered classes and then another day when students attend even numbered classes with an early release. Discussion of the hybrid schedule has been going around school since the past school year, but now it will officially be in full effect in the upcoming school year.
This schedule will have traditional 1st-7th hour classes Monday, Tuesday, and Friday. On Wednesday, students will attend 1st, 3rd, 5th, and 7th hour. By Thursday, students will attend their 2nd, 4th, and 6th hours. On that day, they will also attend an advisory time period, and an early release for teachers to gain additional planning time.
The student body had varying opinions about the new schedule:
"I think a block schedule would be better, but only having two days out of the week doesn't make sense to me. I don't think it will have much effect on our education, but I think it'll give us more time to get caught up on homework, which I like." – Junior Makhallah Taabish
"I like that there are block schedule days because it gives you more time to get homework done. It will also give student athletes more ease because we don't have to carry around so many books on top of the multiple bags you already have every day. It might also make the day go by faster which is always a plus. Along with all of that, it might improve our education because we have more time for lessons." – Junior Brenda Reed
"I like the early releases, it'll make people want to come to school more because the early releases are like incentives." -Freshman Lauren Mabery
"I like the new hybrid schedule because you get more time to be with your teacher, which can definitely help with our education." – Freshman Ryan Thurman