KRHS Media wins 5 national awards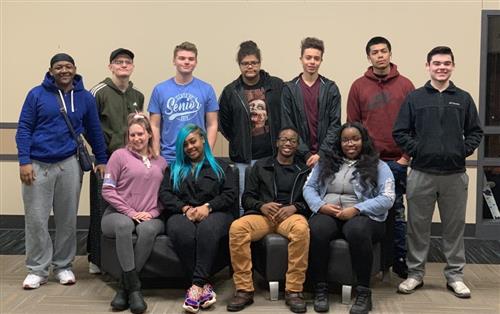 Ritenour High School's student television (KRHS) and radio stations (KRHS) earned five national awards in the prestigious 2019 Intercollegiate Broadcasting System (IBS) Trophy Awards program.
The awards were announced March 1 at the IBS Conference in New York City.
KRHS won first-place trophies for:
In total, 22 RHS entries were named finalists for the awards. IBS honors excellence in both high school and college broadcast programming, air personalities, public service efforts and outstanding stations.
Best Campus News: Reese Sherman (Class of 2018), RHS411 – Final Exams
Best Campus News: Reese Sherman (Class of 2018), RHS411 – Glow Dance 
Best Sports Update: Michael Godfrey, Sports Update – September 7th, 2018
Best Station Promo: AJ Norman, KRHS Radio Ad
Best Event Promo: Nathan Thrasher, KRHS Talent Show Auditions 
Best Use of Special Effects: Israel Rendon (Class of 2018), Best Special Effects – PSA Texting and Driving
Best Commercial Spot: Tiara Waters, National HS Radio Week
Best Commercial Spot: Tristan Talton (Class of 18), Ritenour HS Prom
Best Comedy Program: Tristan Talton, Devon Hutson (Class of 2018); Things that Suck – Christmas
Best Station Contest/Promo Event: KRHS Media Staff, Top Kicks Contest – KRHS
Best Podcast: KRHS Media, 24 Hour Challenge
Best Podcast: KRHS Media, Ultimate Media Rewind
Best Use/FB: KRHS Media, KRHS Media Facebook
Best Use/Twitter: KRHS Media, KRHS Media Twitter
Best Use Instagram: KRHS Media, KRHS Media Instagram
Best newscast: KRHS TV News Staff, KRHS TV News – Aug 2018
Best newscast: KRHS TV News Staff, KRHS TV News – Sept 2018
Best News Report: Ethan Hahn, Justin Lopez; Vaping Facts
Best News Report: Erica Toledo, Haylee Sanford; College Fair
Best Sports Play-by-Play: Ethan Diepenbrock, Ritenour vs Webster Groves (2nd Half)
Best Comedy Program: KRHS TV News Staff, KRHS TV News – Halloween Episode
Best Commercial: KRHS TV News Staff, Trailer "My Grades"