Love-Hilliard uses Padlet for student poetry in quarantine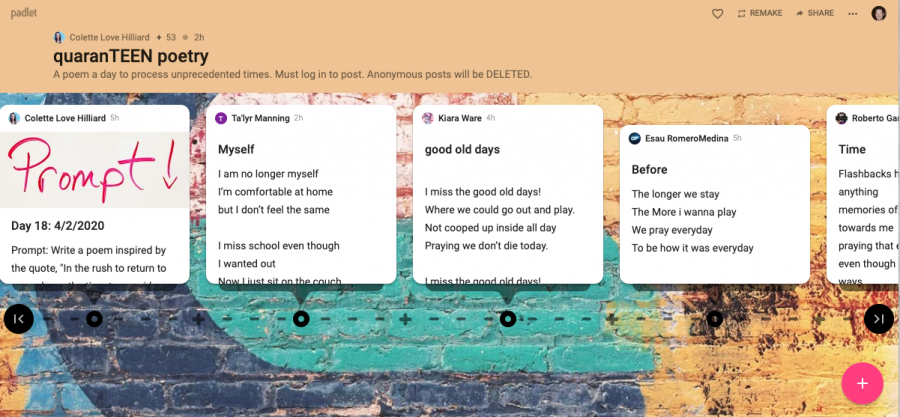 As the Ritenour School District has moved to online learning, the teachers in each building have been searching for what works best for their students moving forward, and English teacher Colette Love-Hilliard implemented a Padlet during the last two days of school that has been a success over the last three weeks. 
Love created a Padlet called quaranTEEN poetry, a name that was coined by her husband, who she calls "the punny one" in the relationship. On this Padlet, Love-Hilliard comes up with a daily prompt and students are asked to add poetry daily in an attempt to talk about how they were feeling during this crisis. 
"I came up with the idea the night we got the call that we were closing early. It was a late night for me. I decided that I wanted to find some way to continue to support students through these unprecedented times," Love-Hilliard said. "We had just started our poetry unit anyway, so posting a prompt and a poetry tool on the Padlet each day would sort of keep things normal, help us stay connected, and help us process unchartered territory. I just got really inspired by the idea of writing something truly meaningful, writing history."
For the 18 days that the Padlet has been up, Love-Hilliard has seen almost 200 posts.  This is a high number, especially considering that students did not have to engage during Spring Break.  
"Some prompts have gotten more attention than others, and weekends were definitely slow, but it's a comfort to see many of them writing with me daily. The staff even got involved, so it's been a great response from the whole husky community. I even invited last year's students and @rhsinstapoetry followers to join in, and a few actually did! I love that it's far-reaching," Love said. 
One of the teachers who has posted consistently has been social studies teacher Micheal Floyd. He has found this an interesting form of inclusion, as he and Love-Hilliard do not really get to interact with each other in the building over the course of a regular school day. 
"As a teacher, I really enjoy writing in my spare time.  I have actually helped to write two books and have always enjoyed writing; especially creative writing," Floyd said. "I think it is a great activity that allows students and teachers to get a chance to peer into the lives of one another beyond the four walls of the classroom."
Love has created additional assignments in other formats since she posted the Padlet, and she says that the different forms of assignments have allowed students of all different learning styles to participate. 
"I am not reaching those kiddos that usually need me to nudge them to do their work at least five times an hour, but I think that is part of what this distance learning experience is all about. It is forcing us to examine what motivates us and what our priorities are," Love-Hilliard said. "I have often wondered, these last 18 days, who is enjoying distance learning and who is not. I was the type of student who wanted to get her work done quickly and one who needed a quiet space to work. Distance learning would have been perfect for me."
Love-Hilliard mainly teaches seniors hin her English classes, so their work has been more focused on how this pandemic has affected the senior class, specifically events like prom and graduation.
"The majority of them are writing about being pretty bummed out. I think many of them are predicting this might rob them of their prom and even graduation, so there are some pretty somber poems on the Padlet," Love Hilliard said. "Others are enjoying their time though and writing about sleeping in, taking some time for self-care, and getting closer to family. There is just a wide range of reactions so far. I do get the sense that all of them are taking the pandemic seriously though. Many are focused on how this will change the future. 
Senior Skyler Faupel has been one of the main contributors to the page since it began.  While she has authored many poems and posted them, the thing that stands out to her the most about this form of work is connecting to others in a time where most people are not getting normal social interaction. 
"What has motivated me to post was that I like to see how other people are reacting to this situation, and when I post I hope people can relate, Faupel said. "I am more interested in reading the posts because I like to see how people are handling this, and it makes me feel more comfortable that I am not alone."
About the Writer
Ron Steinschriber, Adviser
Ron Steinschriber has been the Pepper Box adviser since 2009,  and the Melaureus adviser since 2010.

Prior to coming to Ritenour, Steinschriber helped...