Hispanic representation on rise at RHS
Ulises Hernandez and Nico Rios
Over the years the Hispanic community has grown larger throughout the United States. This has especially been seen in St. Louis, and even more specifically at Ritenour High School over the last few decades. 
According to a report on St. Louis Public Radio, "The overall population in the St. Louis region has barely budged in the past 10 years, but there has been robust growth in minority communities, particularly Latinos. Their population grew nearly 50% in the past decade across the 14-county St. Louis region defined by the U.S. Census Bureau, adding about 35,000 people to eclipse 100,000. Latinos were one of the only groups to add people in every part of the region." 
Ritenour High School is ranked #3 of the most diverse public high schools in the St. Louis area. The current demographics of the school are 23% white, 43% African American, 25% Hispanic, and 7% biracial. Compared to just 10 years ago, the Hispanic population has nearly doubled, from 13% in 2013 to 25% today. The numbers are even greater going back another 10 years, when only 44 Hispanic students attended Ritenour High School in 2003, as opposed to 445 today.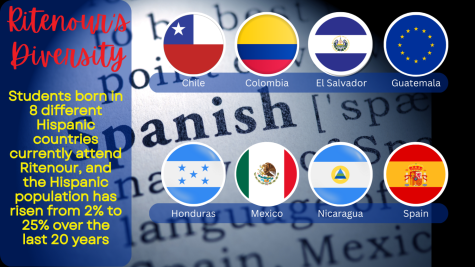 Over the years more and more Hispanic students have been given the opportunity to increase their involvement in the community and in the Ritenour High School community. 
One of the biggest changes that helped increase the number of Hispanic students in Ritenour was the implementation of the International Welcome Center (IWC). The IWC program was placed in order to help introduce students who aren't familiar with the U.S. school system, and they help break down the language barriers that are difficult to overcome when trying to learn another language that is crucial to your learning process. 
According to the Ritenour website, "The International Welcome Center serves Ritenour students from Hoech and Ritenour middle schools, as well as from Ritenour High School, who need intensive English Language Learner (ELL) support with accelerated English training. The program also provides an introduction to the U.S. culture and school system, and exposure to educational expectations and opportunities. The center gives students the support they need throughout their school day in a small, intimate environment that values their home cultures."
Michael Mayberry is a staff member in the Ritenour School District and is in charge of the IWC. He has seen growth in many students who were and are part of IWC. 
"The IWC has benefitted students that have recently arrived in the United States by allowing their English to develop to a point where they can more reasonably navigate classes at Ritenour High School. Over the past three or four years the IWC has had increased enrollment." 
In the IWC Program, many students are helped with their English language learning. They are taught how to read, write, speak, and understand the English language without being judged or feeling uncomfortable in the classroom. 
The students of the IWC program are only put into classes with other people learning English. This helps the students learn along with all their classmates and allows them to feel comfortable while learning until they are ready to join the school at large. Since the rest of the students are learning along with them, it's a better environment than having to struggle in another classroom with students who are already fluent in English. 
Senior Daniela Rico Cervantes is a graduate of the IWC program and said it was a great help for her when she first came to St. Louis. 
"IWC is really helpful for the Hispanic community because they were able to help those of us who were new to the United States learn how to speak English and how the U.S. education system works. Not only did they help me learn English fluently, but they also helped me feel included and helped me integrate into the U.S. school environment better. It was a good way to start school in a new country and learn a new language." 
IWC has helped not only the growth of students and their academic learning but has also enhanced many more Hispanic students and families to want to participate more and become more a part of the community.
The growth in the involvement of the Hispanic community is really important to the St. Louis County community because it makes it easier for everyone to understand those who come from different backgrounds and what they need in order to feel safe and included. When people start speaking up and begin forming a union of not only Hispanics but many others, it strengthens the community structure and helps there be more peace around the area. 
Junior Braden Alanis is an example of multiple generations getting involved at Ritenour. He is supported in the school by his older sister Allison Morales, a Ritenour graduate, and mother Lori Alanis, who both work in the ELL department at the high school.  Braden is a Hispanic student who has proved every day that no matter who you are, you can always do more and bigger things if you put in the effort. 
"I am pretty involved in my school, I am in our school's leadership program, I am in the marching band and jazz band, and I am also a class officer. One of the main reasons why I like being so involved is so I can have the best high school experience, and I also just like being able to help our student body also have a great high school experience" Alanis said. 
Along with the rising population of Hispanic students in general, there is a rise in these students getting involved with school leadership activities. Another student who is also very dedicated and involved is Maria Ventura Romero. She is s very passionate about what she does, but she also cares about the improvements in the community. 
"I am involved in the girl's soccer, marching band, and student council for the class of 2023. I started participating in these activities not only to benefit me as a student but to show my other Hispanic peers that it's good to be involved regarding what background you have. More ideas can come from students from different backgrounds," Ventura Romero said.
A positive that comes from the growth in Hispanic organizations is that they allow people to see that they are welcome to form part of the St. Louis area. This is important because many Hispanics have issues with finding the right place to live because of the fear that they won't be well-liked or they will be discriminated against. 
According to Explore St. Louis, "Today, south St. Louis bustles with Hispanic-American culture, particularly along Cherokee Street west of Jefferson Avenue. Since the early 1980s, numbers of Mexicans and other Latinos have arrived in this predominately working-class neighborhood, which has seen many changes during the last decade. In years past, it was a hub for retail business in the area before going through a period of decline. The 21st century Cherokee is thriving as a commercial center for the local Hispanic community. Over a relatively short period of time, numerous Latin-American grocery stores, taquerias, tortillarias, clothing stores, and food stands have set up shop in the friendly enclave." 
When people feel welcomed they have an easier time showing their cultures to the rest of the community. Since St. Louis County is so diverse, it has become a place where more Hispanics feel comfortable setting up their own communities. 
The amount of Hispanic growth is also reflected in the students of Ritenour High School because they are also inspired in expanding the knowledge of more people about Hispanic culture. Ritenour High School has a club named the Spanish Honors Society, and it's based on excelling in the learning of the Spanish language and cultures. 
This club doesn't only focus on the comprehension of the language, but they also try to spread knowledge of the Hispanic cultures around the school. They bring Hispanic traditions into the building so that everyone, including students and staff, can learn more about their friends and neighbors in the community who are Hispanic. 
"It's important for the Hispanic community to participate and become more involved because that way others in the community can learn more about the different cultures within the Hispanic community. Also, it is important so that there are more activities and things to do to celebrate the Hispanic culture," Spanish Honors Society member Adriana Gutierrez Gaona said.  
This club teaches the students who join it, and the entire school with them. Some of the things they have done have been sales of some popular Hispanic drinks, school spirit week during Hispanic Heritage Month, and many more. Since there are a large number of Hispanic students in the district, it makes them feel more welcomed and included in the district and community.
The St. Louis area has become more and more diverse over the years and compared to some decades ago, there has been quite an increase in the Hispanic population. Many more programs and organizations have been created in order to help the Hispanic Community as much as they can. At Ritenour School District, clubs and activities are growing with Hispanic students trying to make a change.